Welcome to Gratitude Monday. Each Monday stop by & comment on what you are grateful for today. It does not have to be food or exercise related. It can be ANYTHING!
First things first – HAPPY BDAY to my son-in-law. He is middle stepdaughter's hubby. His bday was Saturday!!!! He is younger than me! 😉 A couple fun pics!!!! Here he is with one of the crazy kids!
It has been a crazy few days so this post is not going to show all the fun from TheFitExpo. I swear I was working despite the pics above! 🙂 I did not have enough time Sunday write it all up but here is a snippet below for those that did not see some of my Facebook, tweets & Instagram posts from Saturday. I haven't figured out how to get Instagram to post to both my Facebook pages yet so if anyone can help me on how get them posted to my new Truth2BeingFit FB page, let me know – THX!
First LIFE real quick. It is crazy busy right now with work, things behind the scenes that I just don't write about and family life. I know I either am late getting to read posts or late to see your Instagram and FB posts BUT I try – hope you all understand! Life & life things have to come first.
On to some shares from the Los Angeles FitExpo show. I loved it! I am so happy I got to meet so many online friends too! I was on LITTLE sleep so the bags are showing big time!!!!!!
Here are some other shares from Instagram/Facebook/new facebook page. I will write more about the show when I have time. I was at the show all day Saturday. I did not get home until late and worked Sunday. Had to do errands after work so… but if you did not see what I posted – here it is again.
Sights and sounds of the expo above. YUP, me & Jillian!!! She was impressed I was Fit at 57! 🙂  LOVED MuscleEgg! I got some & a review once I get & use it BUT it was delicious!!! Sodium is higher than I prefer but I don't use a lot at a time so it will be fine for me. Love all these brands. Have used @officialmetrx since 1990s! I won a Dymatize flex off!!! Tenecia, MrsFitLibrarian took this pic below. LOVED IT!!! I used my age – made sure they knew I was 57!!! 🙂 Ummmmmm, my biceps would not compete with the guy in that last pic above – I think they are bigger than my legs! My gym friend Andy came, us in pic next to Mr. Biceps. LOVE Cellucor and the RumbleRoller. I have used the rumbleroller for years. I use their newer beasties too! That TrueLucious bar was super cool. Chefkates had amazing nut butters & you know my love of nut butters! Up top, Mrs. Jack LaLanne & her son!!!
I will write more as I said at a later date but it was fun!!!!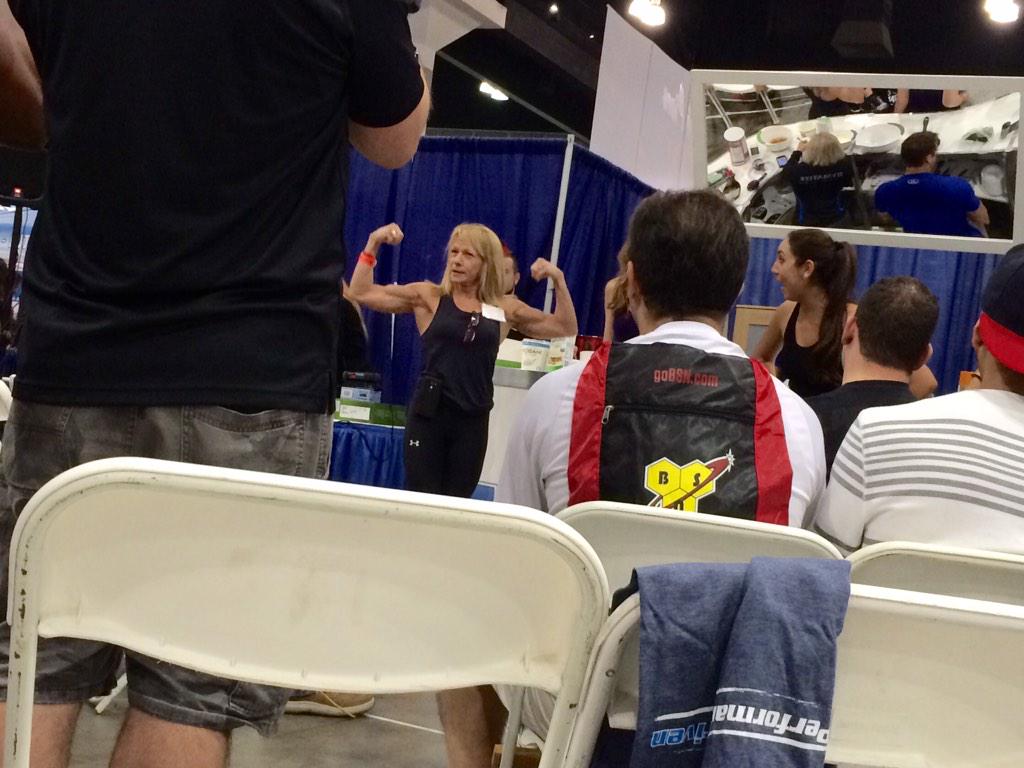 OK – CHECK OUT THE NEWEST PICS OF NEW GRANDDAUGHTER!!!!!! Finally mom – my youngest stepdaughter with her! 🙂 My stepdaughter could not believe she caught the sticking out the tongue pic!!! This cutie was born less than a month ago!!!
OK – I am thankful for it all. I AM TIRED TOO! It has been a long few days and weeks honestly but thankful for it all – good & bad & ugly as they say… 🙂 More craziness to come but I will find the thankful in it all!
Signing off for now. How was your week and weekend? What are you thankful for today?