Fat vs. Muscle - A Personal Visual
Tuesday, March 30, 2010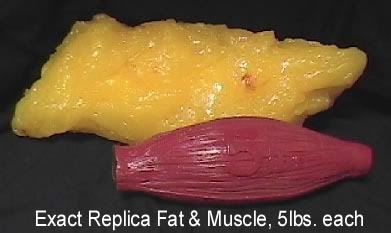 When I was reading April's (of protein bar fame) blog the other day, she was talking about muscle & fat, a subject close to my heart. For those that have been reading me for a while now know that I talk a lot about muscle weighing more than fat & that I weigh a lot more than most people think I do because of my muscle to fat ratio. I have also talked about how I weigh more now that when I was younger BUT I wear a smaller size in clothes.
The picture above shows just what this is saying - 5 lbs. of muscle vs. 5 lbs. of fat. You can see how much denser, space wise, the muscle is & how much more space the fat takes up... squishier too!
So, first hand pictures to show this & I will put a disclaimer on my older pics. I am 52 SO that was the style back then! :-O And yes, I was obviously working out then but not the way I do now.
So, in both of these pictures, I think I probably weigh close to the same weight but I think I was actually lighter in the older pic by about 3-5 pounds. I definitely know I wear a smaller size now. In fact, I was making a comment on this to another blogger. All this dress shopping for the wedding made me realize that I actually fit in smaller sizes than I thought I did... as my every day readers know, I don't buy clothes or shop for clothes for myself so it turned out to be interesting. Last time I was shopping, I was in sizes 4 & 6 depending on the maker & clothes. This time, I was pretty much in all size 4's and if not for my big ole wide back, I might have fit into some size 2 dresses. Now saying that, pants & such, not! My leggies are not a size 2!
So, although we have a certain body type, with weight/resistance training, we can "mold it" and make it look better.... that along with healthy eating.... remember that! Food is at least 75% of this & to see the muscle, you have to get the layer of fat off that covers it!
Now some of you don't want to be as muscular as I am & I understand that! I am just showing you how different a person can look when they work at it & lower their body fat. In my new picture, I weigh about 116.5 (I swing in the 116-119 range depending on hormones & such) and wear a size 4. In the old picture, I think I weighed about 110-112 but I wore a size 6 & sometimes 8.
Muscle definitely weighs more than fat but it is much more dense so the scale may play tricks with you. Use your clothes as a barometer for what is going on if you are trying to put on muscle & lose fat. PLUS, having more muscle helps prevent osteoporosis as we age, helps you do every day tasks with more ease and yes, it make us look great!
I hope this convinces some of you that don't lift weights to start & for those that are already doing weight resistance, to keep it up! Believe me, you will be glad you did as you get older! Did you know that a huge percentage of hospital stays for older people are due to falls & bone/hip breaks & fractures.
Do this for yourself now to be healthy & also to prevent injuries now & as you age.
Trackbacks